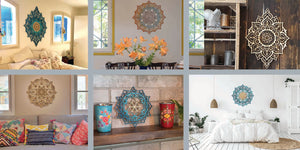 TOHAR WOOD DESIGN
Check out our artwork in peoples homes around the globe! Got a great idea for a woodcut? Want a customized mandala set? Want different colors or sizes? Contact us for custom orders.
~~~~~~~~ ⭐ ⭐ ⭐ ⭐ ⭐ ~~~~~~~~ I was in love the moment I opened up the box and laid my eyes on this beautiful artwork. The details of the design are so mesmerizing that I can't stop staring at it every time I walk by. This was the perfect piece that I was looking for in my zen room, which I will be using for my meditation practice as well.
~~~~~~~~⭐ ⭐ ⭐ ⭐ ⭐~~~~~~~~ It's so beautiful. These mandalas make my whole wall. Easy to hang and shipped incredibly. They are gorgeous. Thank YOU!
~~~~~~~⭐ ⭐ ⭐ ⭐ ⭐~~~~~~~~~ We just received our piece of art and it's ABSOLUTELY STUNNING!!!!!! Thank you so much! I 100% recommend purchasing from this amazing artist!
~~~~~~~~⭐ ⭐ ⭐ ⭐ ⭐~~~~~~~~ Shipped quickly and arrived promptly. These mandalas are absolutely stunning works of art! The pictures do not do them justice!! This was a gift to my Mother for Christmas and she loved it! She could not stop staring at it! The colors were beautiful. The shop is also very responsive to any messages. Thank you!!!
~~~~~~~~ ⭐ ⭐ ⭐ ⭐ ⭐ ~~~~~~~~ I call this beautiful piece of art "The Eye of God". It's stunning. It got here right on time. The seller was great about communicating with me. I would definitely order here again. It even comes with a bonus mini mandala. Love it!